Category Archives: 3 out of 5 Cheers
FILM: Topp Twins – The Untouchable Girls
FILMMAKER: Leanne Pooley
REVIEWER: Becky Beamer
This documentary is true kiwiana.  If you aren't sure what that is – I guess you'll have to watch.  The documentary was shown prime time on NZ Channel 1.  It's a free channel here in New Zealand.  Actually, this documentary has taken nearly $2 million at the NZ Box Office making it the Top Documentary Film ever released in New Zealand !
Summary:  Leanne Pooley's documentary – offers a revealing look into the lives of the world's only yodeling lesbian twin country-and-western singers.
The documentary was shot and composed in a very traditional manner and thus a bit dry.  But, it was watchable because the twins have a good story.  They are unique and special.  I found myself downloading a few of their songs from iTunes.  If you notice them coming to a folk festival near you – most definitely check them out!
The official website and trailer for the movie: http://topptwins.com/tv-and-film/untouchable-girls
Twins Rule !
3 out of 5 Cheers
b.b  (I may be a Twin)
Tags: Becky Beamer, documentary, Film review, Movie Review, movies, Music, New Zealand, review, To see, Topp, Twins
Warning – this is a total spoiler review –
Just hooked up Netflix streaming to the TV – and went crazy all Memorial Day weekend with all the cool stuff I could watch instantly.
One of the docs you too can watch instantly is "Kurt and Courtney."  Like most teen angsters in the 90s, I was (am) a Nirvana fan.  So I'm curious about the subject. I was also curious about the filmmaker, Nick Broomfield who is repeatedly quoted in every book on documentary film that I own.  (If you know me, you know I've got at least more than one book on documentary film.) So I was as curious about him as I was about "Kurt and Courtney."
This film is kind of a sucker punch.  It really got a reaction out of me.  Nick Broomfeld does a first person narration through the whole film – I believe I may have mentioned how much I generally hate first person narrators.  He's driving around telling us about who he wants to interview, where we are, what we've learned about Kurt Cobain…yammer, yammer, yammer.  And the people he's interviewing generally seem a bit off their rocker.  As you meet more people from Cobain's life -  the more you think, "Wow. He was surrounded by nuts."  (Except his sweet Aunt Mary, you really kind of wish you had a sweet Aunt Mary).
So I spent the first half of the film kind of hating it.  I was really mad at Nick Broomfield for making me watch a film that goes nowhere.  I wasn't learning anything I didn't already know about Kurt Cobain – everytime things got interesting, Nick Broomfield would say something like, "Well, I would have interviewed this guy…but Courtney Love stopped me," or "I would have played a song, but Courtney Love gave me injunction," "I would have flown here, but Courtney Love scared away my funders." And then, "I would have interviewed so and so…but Courtney Love threatened her with death." What?
So halfway in – this movie takes a turn, and you get where fearless leader Nick's been taking you. Courtney Love really pissed off Nick Broomfield during the making of this film. So since she won't let him make a film about Kurt (& Courtney) – he makes a film about Nick & Courtney, making sure the audience knows every way she gets in the way of his freedom of speech.  He includes every conceivable way she may have hurt people in the past. And includes recordings where she threatened music journalists with death if they wrote bad stuff about her, and scared one so bad she left town.
At the end of the film she is the invited speaker at the ACLU – the celebrated litigators of freedom of speech. Nick Broomfield puts it to the test – and after her speech HE GETS UP ON STAGE and questions the ACLU for having someone he feels is antithetic to freedom of speech as the guest speaker.  The irony of his being escorted from the stage for freely expressing his opinion at an ACLU meeting – is frankly beyond awe-inspiring. And strangely, I kind of loved this film.
I didn't learn anything much new about Kurt and Courtney.  But I do know that I will never ever cock-block Nick Broomfield.  And he may be the most punk filmmaker I have ever seen.
–3 out of 5 cheers
–Katy J.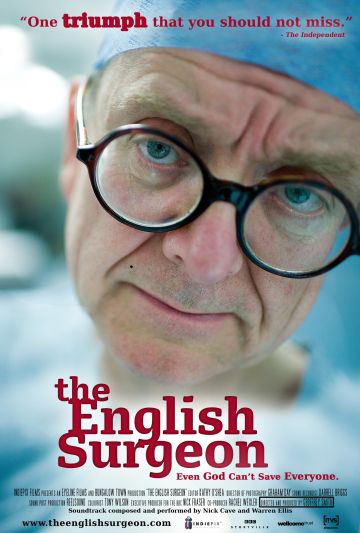 DOCUMENTARY: the English Surgeon
DIRECTOR: Geoffrey Smith
REVIEWER: becky beamer
It's been a while but Katy and I reunited this week for a Documentary viewing.  As promised in a previous post – I reviewed the English Surgeon in anticipation of the new film by Geoffery Smith.
Netflicks Summary:  Get acquainted with the work of British brain surgeon Henry Marsh, who, since his haunting first visit to a Russian hospital in the early 1990s, has been devoted to founding a quality brain surgery clinic in the former Soviet Union. Marsh cobbles together secondhand tools and used equipment from hospitals in the U.K. to treat patients in need, such as Marian, a Ukrainian man for whom Marsh is his greatest hope.
The first thing that stands out is how "very BBC" the visuals and story telling style is for this film.   This story was not assisted but a narrator which left the viewer a bit sleepy at a few points.  We were just sitting – waiting – for the narrator to push the story ahead.  I was a little disappointed by the tre conservative camerawork.  And low and behold – it was sponsored by the BBC.
On the upside – the English Surgeon did have the most tactile face I've seen in quite a while.  And the English Surgeon in combination with his Ukrainian counterpart were funny, insightful, and humanistic as characters.  Thier interaction inspired laughter and conversation.  I also have to admit I laughed OUT LOUD at least 3 points in the film.  On the other hand – I fell asleep about 1 hour in and woke up 15 minutes later.  At least I wasn't the only one who took a cat nap during the same segment……. I think I can speak for Katy when I say that we both found the need to talk a bit about life, the health care system. and hard choices as the credits rolled.
It wasn't the best but it wasn't the worst.  Too bad it wasn't just 1 hour I think it would have been a 4 out of 5…..
3 out of 5 Cheers
b.b
Tags: Becky Beamer, documentary, Documentary review, entertainment, Film review, friends, Fun, Geoffrey Smith, Medical, review, surgery